Eventually I would like to write down a list of excellent books that all children should read at some point in time. In the meantime, however, I shall spend a few moments praising a well-beloved author whose books bring so much into a child's experience and imagination. These books are none other than the 46 creative tales from Theodor Seuss Geisel, aka Dr. Seuss. His most widely known stories include
The Cat in the Hat; One Fish, Two Fish, Red Fish, Blue Fish; Horton Hears A Who; Oh the Places You'll Go!;
and, of course,
How The Grinch Stole Christmas
. These wonderful works of poetic genius are stories that all people can enjoy, whether they are truly children or children at heart.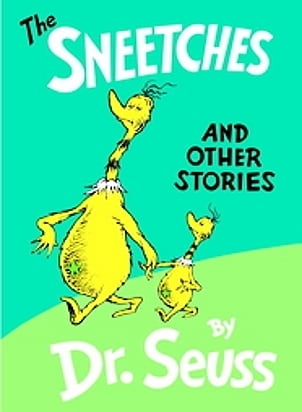 Dr. Seuss' works have inspired many musical and cinematic productions, including a stage musical entitled
Seussical
and a movie opening in March 2012 titled
Dr. Seuss' The Lorax
. Because of the ingenuity and imagination found within Seuss' works, their simplistic style creates a bounteous selection for children of all ages. While none of his stories deal directly with moral statements, there are lessons to be learned from each one. These lessons vary from vanity is bad (as in the case of Gertrude McFuzz) or simply treating one another as equals regardless of outward appearances (as in
The Sneetches
.)
When I was growing up, we had a VHS (old-school, I know) with a few Dr. Seuss stories in cartoon on it. I always loved watching them. The tales were entertaining and colorful, and as I look back on it, I can see the lessons I learned about fairness and how being stubborn doesn't always win. I recently read
Oh the Places You'll Go
and was reminded of how the immortal words of that story apply to anyone embarking upon a new journey, whether it is a new job or college or simply an unexpected turn of events.
Furthermore, the simple vocabulary that Seuss employs makes his books ideal for children as they begin to read. The exciting and wacky stories will make learning to read more enjoyable. You could even start with Dr. Seuss'
ABC's
going from A to the Zizzer Zazzer Zuzz. I highly recommend having at least a few of his books (if not the entire collection) within your library. You'll enjoy reading them again and again as the imagination of your children takes off in wonderful ways from the fantastic influences of the world of Dr. Seuss. For a complete list of the classic Dr. Seuss stories, click here.